Passivation Applications
Passivation is used for:
Increasing the corrosion resistance of stainless steel.
Removing foreign matters and free irons from manufacturing tools.
Removing weld scale.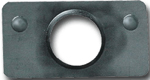 Passivation Standard
QQ-P-35 Type II & VI, and ASTM A-380
ASTM A967
AMS-2700
Passivation Capabilities
Our largest tank size is 6ft. x 30in. x 5ft.
More About Passivation
Passivation does not change the appearance of the metal.