Leader in Powder Coating
CMT is the leader in commercial, industrial, and architectural powder coatings in Central Texas. CMT's powder coating facility is able to provide the highest quality finishes that are prepared, and processed using state of the art industrial coating equipment. We excel in critical jobs that require attention to detail.
In addition, CMT can handle large volume production jobs to provide lower cost and an increased value to the customer.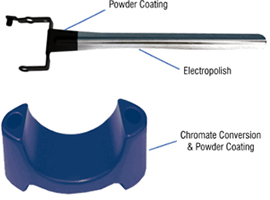 Combined Process
---
Powder Coating Capabilities
Standard powder colors – smooth and textures
Super durable processes and coatings to meet AAMA 2604
Primer coating processes
Clear top coats in various gloss levels
Our customers have recognized CMT as the best powder coating provider based on both quality and turnaround time. CMT is able to complete complex jobs that require multiple finishing processes at one location.
Powder coating, an environmentally friendly process, is very appropriate for parts that need to be protected while maintaining a cosmetic appearance. This coating will protect parts exposed to harsh conditions such as frequent exposure to chemicals or moisture. Powder coating characteristics include fade, chip and crack resistance, flexibility, suitable for any metal, and excellent durability. Powder coating has a wide range of color options. This includes standard and custom colors, metallics, super durables, textures, and various gloss levels of clear coatings.
Whatever your powder coating needs, please contact us.  We will be glad to help you.